Wedding Anniversary Gift Ideas and Meanings
Wedding anniversaries come once every year, and it's an event that that we cannot miss or forget about. Flowers are always welcome, but why don't you include a small gift on the side that means something more thoughtful? Here is a modern version of yearly anniversary gift ideas with our interpretation of what these gifts could mean.
Here are some anniversary gifts that you can purchase from our site: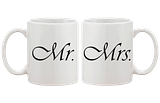 Mr and Mrs Mug Cup Set
 Waking up next to someone you love more than anything in the world is a pretty awesome feeling. How about having a cup of coffee together in the morning with your lover, or sharing a cup of tea in the afternoon? We all love our coffee and tea time, so imagine how wonderful it would be to share one with your significant other! 
   King and Queen Pillowcase Set
If you dream of being a royal family, these crown couple pillowcases are perfect for you. Fancy and fun, these King & Queen couple pillowcases will add a regal touch of glamour to your bedroom. These couples pillowcases can be a gift to any newlyweds, or you can simply enjoy them yourself to get cozy with your special someone. They are made of 100% quality cotton and feel very luxurious.
Leave a comment